Design we love: the GT rocker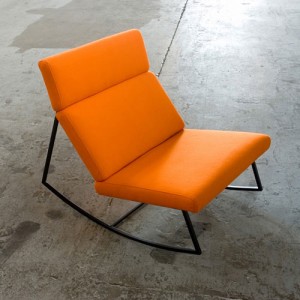 We were struck by the clean, classic beauty of this modernist rocking chair at STYLEGARAGE on Queen Street West. We grew even more impressed when we found the sleek—and almost absurdly comfortable chair—was designed and built right on the premises.
"It's called the GT Rocker," explained STYLEGARAGE manager Liz Le. "It was inspired by the muscle cars of the 1970s," she tells us. "By the bucket seats, and even the chair's burnt orange colour."
Designed by STYLEGARAGE owners David Podsiadlo and Neil James, the chair—which is now being mass-produced (which keeps the costs down)—is available in three different fabrics and in three colours: grey, white, and that sweetly aggressive, Here-Comes-The Judge burnt orange (as shown in the photo).  You can get the chair in certain custom fabrics as well, Liz Le points out—such as black leather.  Which of course costs more.
The GT Rocker, in all its muscle-car splendor, glowing as orange as a sunset or a 1967 Pontiac GTO, sells for $1250.00. STYLEGARAGE is at 938 Queen Street West in Toronto.
416-534-4343
www.StyleGarage.com