Art we love: Tabletop DNA by Bradley Harms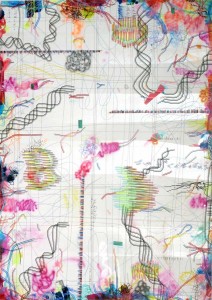 We think this large (77 by 54 inches) acrylic by Winnipeg-born, Vancouver-based painter Bradley Harms is really pretty hot. It's titled Tabletop DNA.
This airy, open-hearted painting, as absorbing and as intimately inspectable as a game-board, is something of a breakthrough for Harms—who for some time new has been making paintings that are exhaustingly labour-intensive, often involving meticulously painted stripes and other formats requiring huge amounts of precision.
You can see some of these tightly-crafted paintings at The Angell Gallery (on lower Ossington Ave. near Queen Street West) in Harms's exhibition (which runs until October 29) called Total Confusion Fabulous. You can also see, in the same exhibition (which it dominates), his Tabletop DNA—of which we are so fond.
We always enjoy The Angell Gallery's zippy press releases.  Here is an excerpt from their Bradley Harms notice:
Colors bump and bite each other, getting along and then suddenly seem to argue (but remain friends); and we can tell with a little effort that this is an artist for whom contradictions are strengths, and who feels that nothing is lost by admitting that. Blistering, electrical speed is applied with the slow hand of a classical landscape or portrait painter, and every possible prohibition is violated in the artist's search to subvert the vocabulary of late Modernism.
Stripes for instance have usually denoted high seriousness and the exclusion of comedy along with imagery; not to mention the use of tape: Harms dispenses with both simultaneously, in a manner whose freshness is undeniable, but also clearly intellectualized, thought through from the start. His choice of color scheme often veers toward the loud and uncompromisingly Op – but at the same time his technical choice to hand draw every line we see, slowing down his process to a proverbial crawl, does something weirdly appealing to this kind of abstraction: it personalizes it.
Although the painting has much else to offer, what we like most about Tabletop DNA is its odd, funny, cheeky, inventive ways of combining, on one painting surface, both tight little configurations (the sharp, twisty chromosome-like spirals—the painterly DNA), and blowsy, wanton passages of pink, wishy-washy blobs, so hitherto foreign to Harms' work. We feel that the exhibition's title, Total Confusion Fabulous, gets it just about right.
Tabletop DNA is $9000.00.  The Angell Gallery is at 12 Ossington Ave.  416-530-0444.   www.angellgallery.com

One Comment