MONDO CONDO: TERRY EDWARD BRICELAND: PILLOW TALK
Terry Edward Briceland , the young designer who begat the Art Condos model Suites, runs a company called TEB Interiors alongside his business parter,  Matthew Adams. Although they are now launching a line of beds and other ambitious objects, TEB interiors has an established and enviable reputation for its gorgeous, witty, provocative and often outrageous pillows.  You can see some of them scattered strategically about in the model suites photos.
TEB pillows are not for the faint of heart.  Eschewing mere tastefulness for his own brand of runaway energy, Briceland draws gleefully and effortlessly from raw pop culture as inspiration, mixing together traditional materials and patterns with chancy new ones—as in his Trucker Slut Pillow.  Here, on a rich, opulently printed fabric, he superimposes a cheeky cheesecake nude in outline, her body made up of what looks like gridded material from the radiator of an 18-wheeler.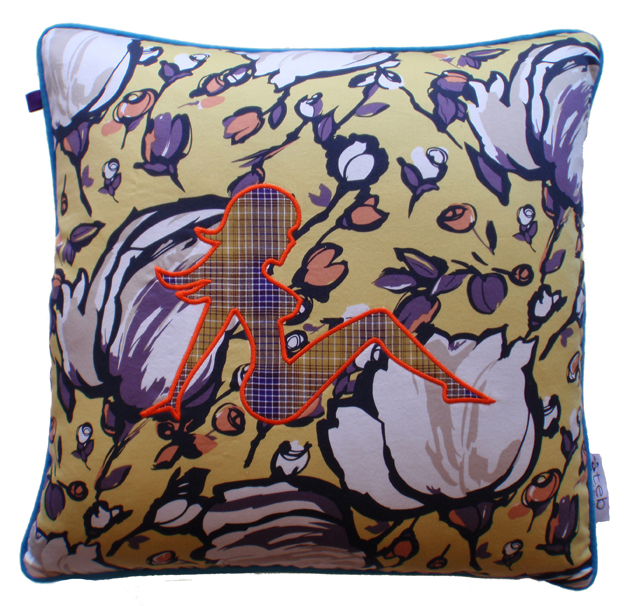 He likes Muscle Cars, and often uses logos, insignia and décor associated with Kar Kultur—see, for example, the gold-on-black, spread hood-eagle on his Guido Cafe  pillow, and the twin white racing stripes on his Start Your Engines model.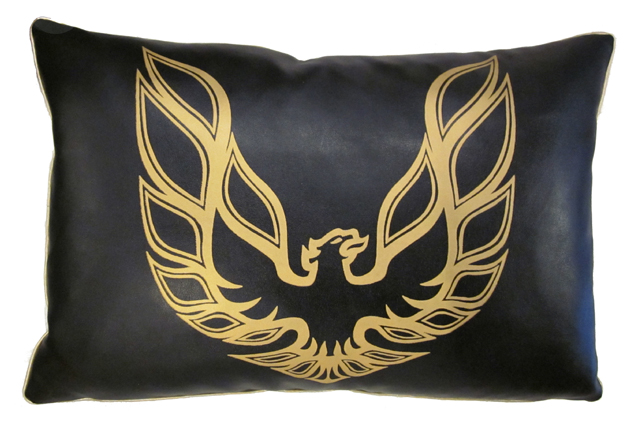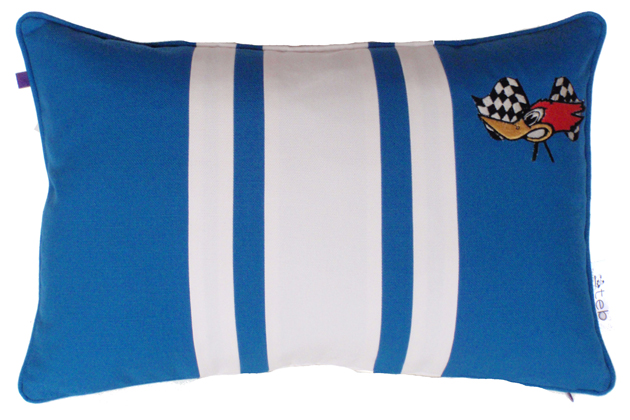 Death is a big design motif with Briceland.  Like other wielders of pop-cultural imagery, Briceland scorns the bleak, metaphysical truths about death to turn it, instead, into a screw-you act of bravado that is surprisingly refreshing.  There are skulls everywhere in Briceland's work.  In his Big Viv pillow, you can find—if you look carefully—a few grinning white skulls seamlessly integrated into the explosion of baroque extravagance that is superimposed on the pillow's green-gold plaid background.  In When Doves Cry, a red plaid skull and crossbones sits innocently on a conventionally beautiful, silvery-blue floral ground.
Sometimes Briceland's pillows ascend from wit and charm to the realms of high art.  As, for example, with his brilliant Braille Vagina and Braille Penis pillows where, on innocent, satiny grey backgrounds, the words "vagina" or "penis" are spelled out in Braille.  Subtle and forceful, sad and funny, all at the same time.
TEB Interiors, c/o Design Republic, 639 Queen Street West, 647-242-4032.  tebinteriors.com.