MONDO CONDO: Jordan MacLachlan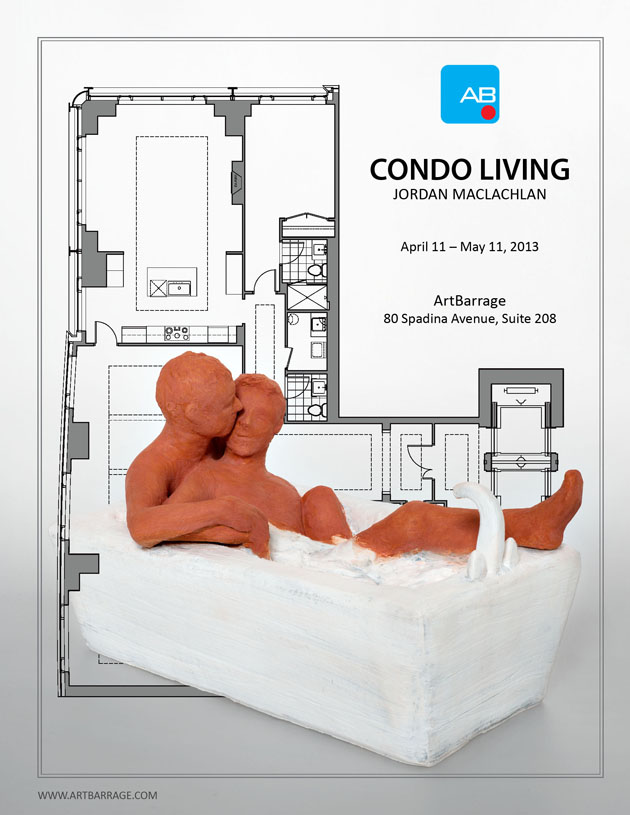 CONDO LIVING
Jordan MacLachlan
April 11 – May 11, 2013
Opening reception: April 11, 5 – 8 pm
80 Spadina Ave. Suite 208
ArtBarrage is pleased to present Jordan MacLachlan's Condo Living installation at the ArtBarrage gallery at 80 Spadina Avenue. MacLachlan is known for her clay explorations of true-to-life narratives that reflect the often raw and contradictory nuances of human nature. Her sculptural vignettes afford viewers poignant glimpses of a brazen underside, revealing the teeth of life through emotional grit.
The artists states, "I make figurative narratives that are meaningful to me, and reflect the life I have lived…. often appearing quite frank, while at the same time possessing an "aliveness" as though there were someone home inside each piece".
Earlier in her career, an inspiration for MacLachlan was the discovery of Playing With Fire, European Terracotta Models, 1740-1840, a book published by the Metropolitan Museum of Art in 2003, and written by art historians James David Draper and Guilhelm Scherf. Playing with Fire is devoted to the appreciation of the simple and unadorned terracotta "sketches" that were made by European sculptors between 1740-1840.
She states, "I have always been partial to working with clay because it has been able to fit into just about any of my life circumstances, big or small".
Condo Living is a series of figurative sculptural vignettes that derived from her Unexpected Subway Living installation, originally shown at MOCCA in the Ineffable Plasticity: the experience of being human exhibition in 2011, curated by Camilla Singh. In Condo Living, the clay figurative sculptures are comfortably housed on a condo floor plan, yet possess a barbarism that one would not expect to find beyond the walls of our neighbours. There is an undeniable fine line between the homeless and the housed, and questions are raised about who or what we really are.
MacLachlan has shown her work at solo and group exhibitions across Canada, including the National Museum of Natural Science, Ottawa, the Museum of Contemporary Canadian Art, Toronto, L'evenement d'art actual de Saint-Hyacinthe, Quebec, and at The Rooms Provincial Art Gallery, and the Crafts Council of Newfoundland and Labrador. Her work is included in a variety of corporate and institutional collections including the Confederation Centre for the Arts, PEI, and The Robert McLaughlin Gallery, Oshawa.