ARTCONDOS: ART WE LOVE JOY by Kai Chan.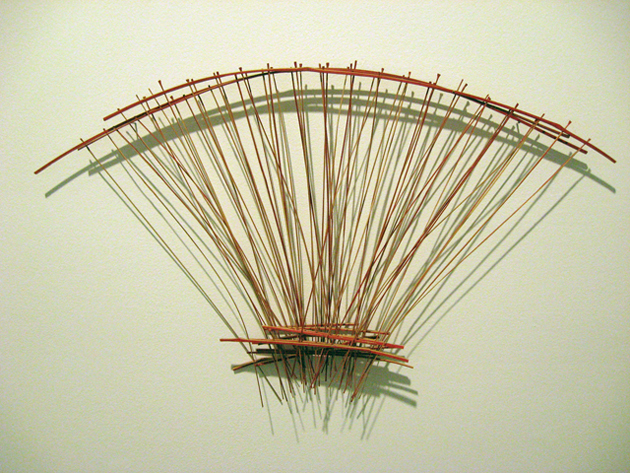 We dropped into the nearby David Kaye Gallery the other day to see new work by the celebrated Chinese-Canadian artist Kai Chan.  Chan, who was born in China in 1940 and has lived in Toronto since 1966, is the recipient of numerous honours and awards, and this latest Toronto exhibition serves as an exciting introduction to the deft, delicate, witty, lyrical work of this always surprising artist.
Mostly, we were impressed—and delighted—by his inventiveness with materials.  There seems to be nothing Chan cannot and will not use in the making of his art.  A list of his "ingredients" would have to include: paper, wood, bamboo, thread, shells, aluminum, copper, stainless steel, plastic, wire, plywood, cardboard, glass beads, buttons, string, cloth, twigs, glue, pigment, toothpicks, incense and grass clippings.
The work shown here—entitled Joy—was made this year.  It is constructed of bamboo, dye and oil paint and evokes everything from a fan to a footbridge over a stream.
Kai Chan's exhibition is at the David Kaye Gallery at 1092 Queen Street West (at Dovercoirt) and runs until December 2.  Works range in price from $400 to $6000.  416-532-9075.  www.davidkayegallery.com.