Art we love: Sacred and Profane Love (Self-Portrait II) by Harold Klunder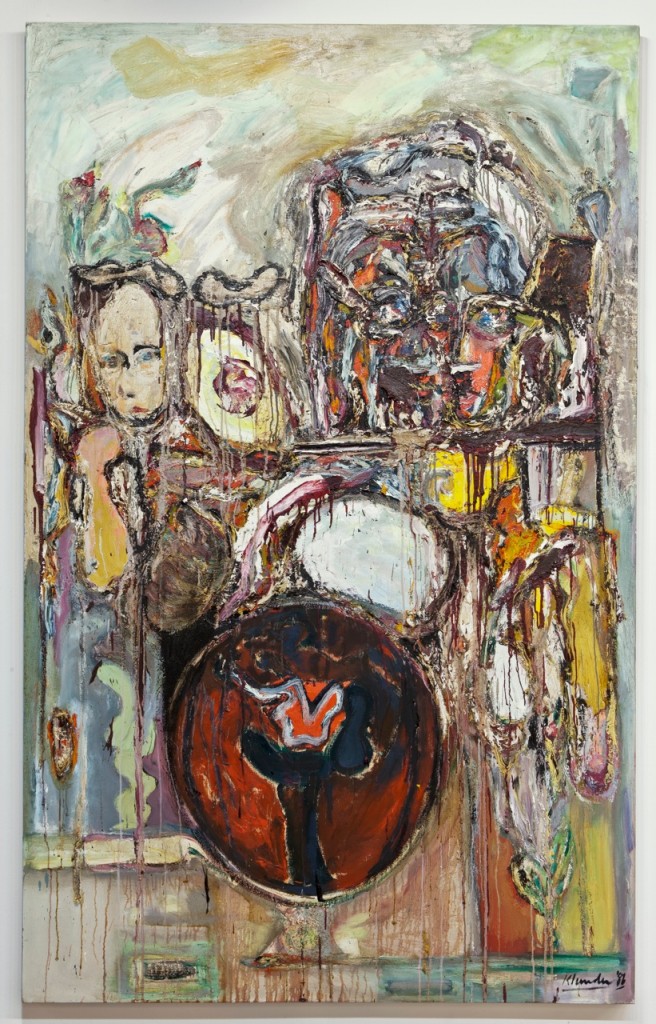 Harold Klunder is everywhere regarded as one of Canada's most powerful painters.  His latest exhibition, Black Sun, now at the Clint Roenisch Gallery is a remarkable experience, both for the majestic trio of paintings making up the Black Sun work, but also for this seldom seen painting from 1985-86 (above), with its all-over turbulence and its eerie, floating, self-portrait face (though it should be added that Klunders's paintings frequently feature self-portraits, often hard to see through the welter of pigment with which he loads up his canvases).
Given the unfailing elegance of the press-releases from the Clint Roenisch Gallery, we thought it might be useful to provide this one (below), pertaining to the Black Sun show.
After more than three decades of painting and exhibiting Harold Klunder has crafted a deeply personal, refined, potent, erotic, fluid vocabulary of colour and form. His vivid works speak in a voice that are uniquely his to suggest ideas of vitality and transformation, of biology and duration, of identities that are mutable and of the still-unfolding history of painting itself. The paintings reflect Klunder's lifelong engagement with the work of other painters such as Soutine, Ensor, Bacon, Van Gogh and de Kooning (both sharing his Dutch lineage) among others. Klunder will work on single paintings for years at a time and in so doing they become invested with a palpable sense of lived experience. Klunder has often spoken of his interest in using his artistic struggle as a formal element in the gestation of new paintings, laying bare the evidence of his effort to give shape to consciousness itself. In his recent, definitive book "Abstract Painting In Canada" Roald Nasgaard wrote that "A sense of the history of art (at least back to the seventeenth century) pervades Klunder's work, but not in any derivative or historicist way. His are no postmodern exercises of appropriation but something entirely internalized and personalized."
Black Sun continues at the Clint Roenisch Gallery, 944 Queen Street West, until February 29.  416-516-8593.  ClintRoenisch.com.
Critic and Art consultant Gary Michael Dault talked to Harold Klunder at the Clint Roenisch Gallery the morning after his Black Sun opening.