Oscar Figueroa – Art on the Loading Dock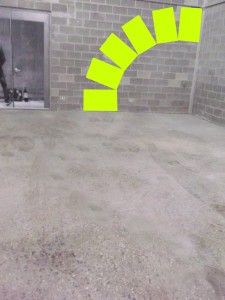 Beginning Tuesday evening, June 11, the Art Condos Loading Dock–not long ago the site of the now historical Art Condos Parka Party–will become a contemporary art gallery, offering an exhibition titled Air Plane by Oscar Figueroa. Curated by artist and art critic Gary Michael Dault, Figueroa's Air Plane will feature a number of the artist's inventive and resourceful interventions into the normally rough industrial space, some of which will be immediate obvious, and some of which will be so subtle it may take a while to spot them.
As Figueroa stated In an email to Gary Michael Dault on June 7, "I tend to gravitate towards minimal/subtlety. I think this kind of art is most relevant and necessary today; we have never been so bombarded with images in the history of the world, and minimalism is a kind of relief from that bombardment. It is peaceful, quiet. My struggle," Figueroa adds, "is trying to release minimalism from its coldness…."
The ways in which Figueroa accomplishes this are, we think, truly absorbing. Tell us if you agree.